Farmville Gets Real: Bayan-Anihan!
Alright, I admit. There was a period of my life that I was so addicted to Farmville on Facebook. Sometimes, I'd even go an extra mile just to level up. My housemates would invite me to dinner and I'd respond with "Wait lang. Mag-a-ani lang ako." It was fun. Harvesting my virtual crops was a fulfilling experience. I felt like my efforts paid off and I deserve all my Farmville cash.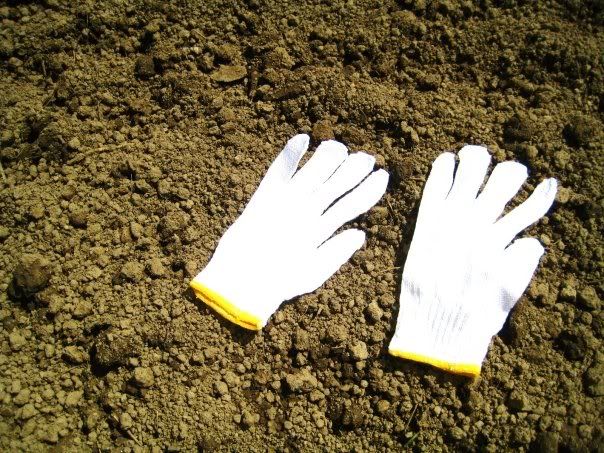 But the moment it started to affect my life (I'd get up early in the morning just to harvest lest my super berries should wither), I made the painful decision of quitting. Sayang, I was on Level 28!
Farmville never entered my head again except for a few occasions when a friend would find an ugly duckling or a brown cow and I was being prompted to adopt them. As much as I'd like to collect chocolate milk, I just had much more important things to do, like, let's say my job and my blogs.
The next time Farmville got alive in me was when Globe invited me and a couple of other blogger friends to join them on Bayan-Anihan! Globe works with Gawad Kalinga to push a food sufficiency program that aims to put food on Filipino's tables. The end-result that they wanted was obvious in their cheer: "Goodbye Gutom!"
It was an opportunity I did not let pass. "This is it," I thought. "Farmville in real life!"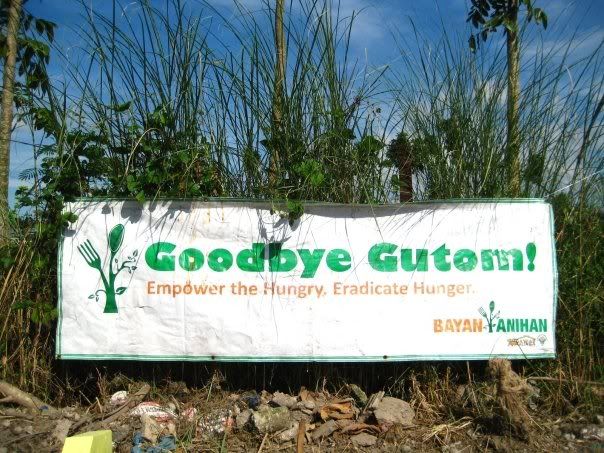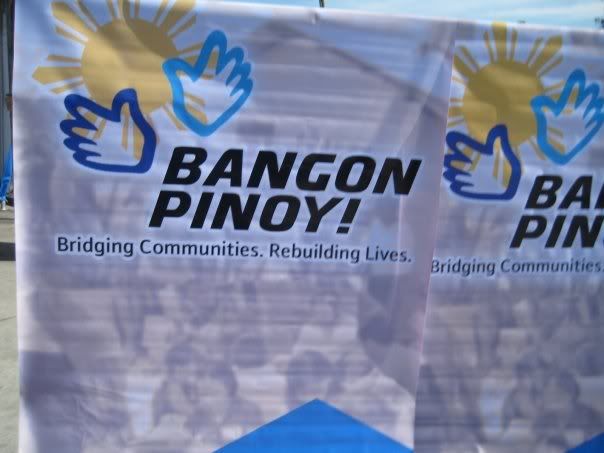 We gathered at Globe Telecom Plaza at 4:30am. We were given a shirt, a towel, and a buri hat, which all proved useful. We arrived in Concepcion, Tarlac at around 9am and we were overwhelmed by the warm welcome the community gave us. Old women in their traditional Filipinana attire and children showing their smiles.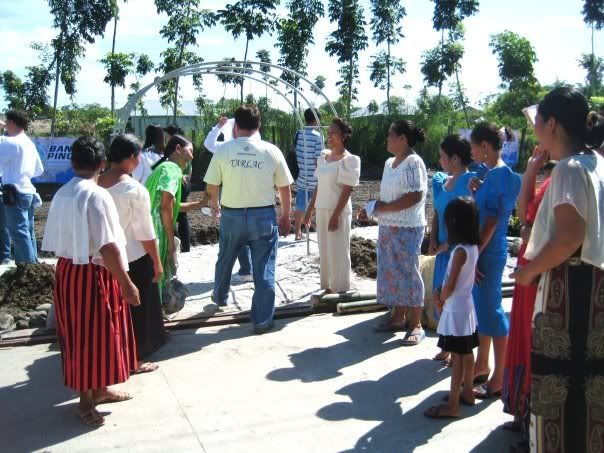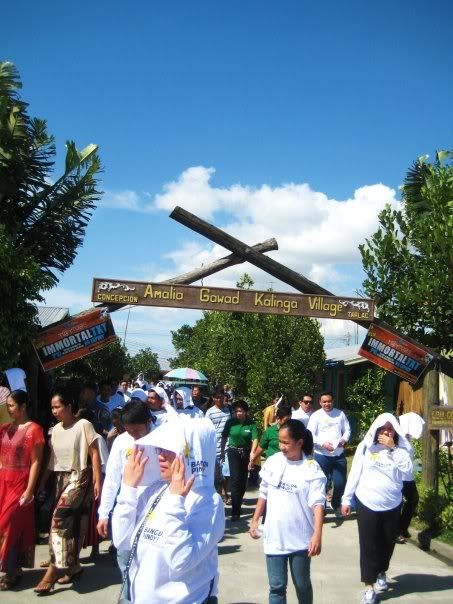 After a short program and the ceremonial planting, we were divided into five groups according to activities: painting, bamboo fencing, landscaping, kubo installing, kiddie game hosting. Ces and Dohna, the bloggers I was with, originally opted to help in the Kubo installation but when we saw how huge the kubo was, we just took painting. Haha. Besides, my left shoulder had been giving me the torture of the century the whole week, how's that for an excuse.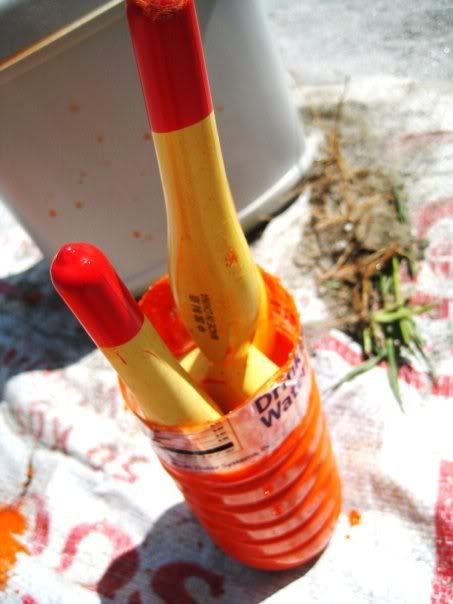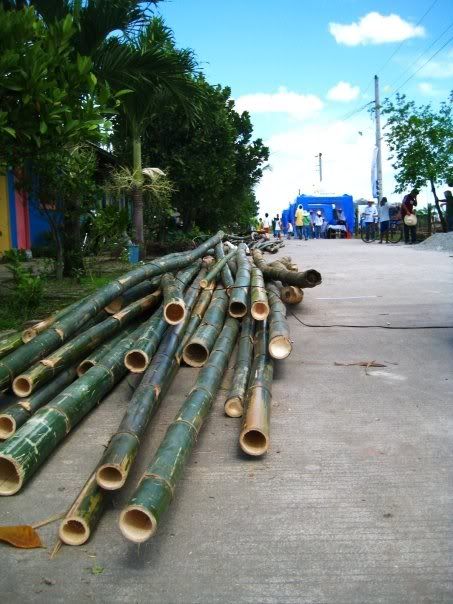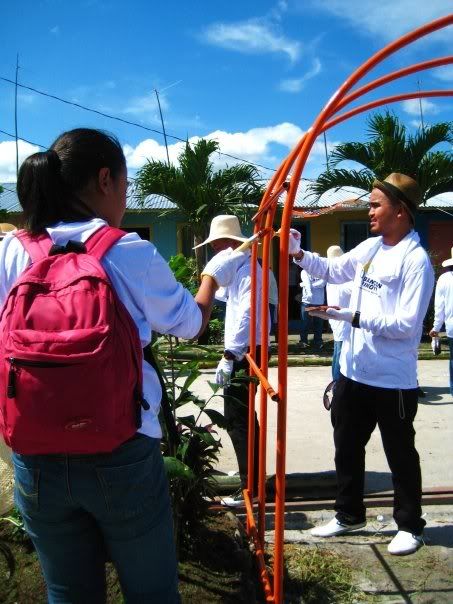 In ordinary days, the scorching heat of the sun would have discouraged us but it was not an ordinary day. We braved the sun and in fact, we were all very grateful for the fine weather. We started painting the arc orange and plot markers yellow. When we were done, we carried the concrete markers (they were heavy) and installed them.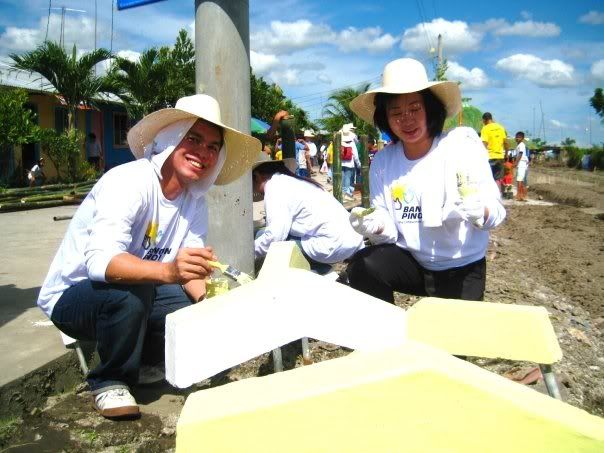 Bamboo fencing took a little more time to get done. (Mind you, it wasn't easy.) We were all finished at around 1pm. But what we didn't expect was what was in store for us after the grueling farming.
FEAST!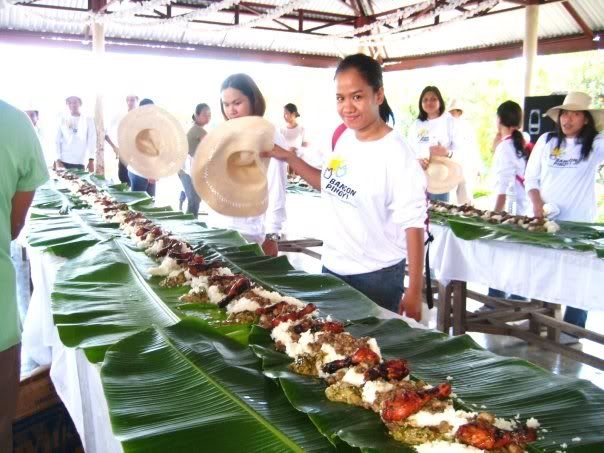 I couldn't remember the last time I used my bear hands to eat. My food always dropped from my hand. I need to brush up on my traditional Pinoy dining skills.
After lunch, Globe volunteers hosted some fun games for the kids in the community. It was hilarious.
At 3pm, we were heading back to Manila. It was quite funny that there was a movie playing in the bus but nobody actually watched. Everyone was asleep during the trip. The exhaustion finally sneaked its way into everyone.
Coming back from Tarlac, I immediately uploaded my pics to my Facebook account. And when I logged in, as usual, there was a black cat lost in Farmville and it needed adopting. Funny, I'll never see Farmville the same way again. The Farmville in my head, the one in the non-virtual world, is a place that I should always frequent, we all should.
And after a few months, when all we planted bloom and bear fruits, I hope I could join them in harvesting. This time, not virtual, but real crops — real food that real people would eat to ease their hunger that is also a reality in this country. And when that time comes, it's gonna be a rewarding experience. Far more rewarding than playing Farmville online.