My Top 100 All-Time Favorite Love Songs (Part 6)
Just this morning, when I opened up my laptop and launched iTunes, it randomly played Leigh Nash's Need to Be Next to You. And in an instant, I was reminded of this list and that I had not posted a follow up since August last year. So here it is.
This is the sixth installment of my list of 100 love songs that I am completely in love with. This batch includes singles from number 21-30. Again, this is a personal list — songs that have touched me in many ways. (Click on the title of the song to listen to it.)
I still haven't seen the movie Bounce, starring Gwyneth Paltrow and Ben Affleck, for which this song was written. But I don't have to see it for me to love this song. Leigh Nash's soft, sweet voice fits the melody and the lyrics of the song perfectly. The song is simple, talking about how she needs to always be with the person she's in love with. But its simplicity makes the song more adorable.
I need to know I can see you smile this morning
Look into your eyes each night for the rest of my life
Here with you, near with you, oh I
I need to be next to you
Not to mention that I've always loved Leigh Nash.
TAGOS! When I first heard this song, I was left speechless and before I knew it, I had set this track on loop. It's just so honest and straightforward, it's hard not to feel for the singer. The lyrics are brutal and the melody is catchy. So here's for all who have patiently loved someone so numb, so insensitive and so thick.
Nagtapos ang lahat sa di inaasahang pahanon
At ngayon ako'y iyong iniwan
Luhaan, sugatan, 'di mapakinabangan
Sana'y nagtanong ka lang
Kung 'di mo lang alam
Sana'y nagtanong ka lang
Kung 'di mo lang alam
Ako'y iyong nasaktan
Baka sakali lang maisip mo naman
Hindi mo lang alam
Kay tagal na panahon
Ako'y nandirito pa rin hanggang ngayon para sa'yo
I also love the "Sana nakinig na lang ako sa nanay ko" line. Teehee.
This song is just sad and lovely. Loved it the first time I heard it. Loved The Corrs the moment I heard it.
I haven't slept at all in days. It's been so long since we've talked.
And I have been here many times. I just don't know what I'm doing wrong.
What can I do to make you love me? What can I do to make you care?
What can I say to make you feel this? What can I do to get you there?
I love Tori Amos. There's something about her voice that pierces the heart of anyone listening to her. I guess one thing that makes Tori Amos special is how she feels the song. I cried the first time I heard this. And mind you, I was at the mall. LOL.
These tears I've cried.
I've cried a thousand oceans.
And if it seems I'm floating in the darkness
Well, I can't believe that I would keep,
Keep you from flying;
And I would cry a thousand more
If that's what it takes to sail you home,
Sail you home.
Sail you home.
Although I also adore Alanis Morisette's angst-y songs, Everything had a special effect on me. It was a breath of fresh air. It's such a happy love song.
I'm the funniest woman you've ever known.
I am the dullest woman you've ever known.
I'm the most gorgeous woman you've ever known
And you've never met anyone as, as everything as I am sometimes.
And I was surprised she cut her hair in the song's music video.
My Best Friend's Wedding takes the credit for introducing this song to many. I learned about this song when I bought a copy of the romantic comedy's official soundtrack and it became my favorite from that record. It's sad because it's about letting go but somehow it's comforting to know that the persona in the song accepts it whole-heartedly.
There's been so many changes
I was so confused
All along you were the one
All the time I never knew
I want you to be happy
You're my best friend
But it's so hard to let you go now
All that could have been
I'll always have the memories
She'll always have you
Fate has a way of changing
Just when you don't want it to
The first time I saw Jon Mclaughlin was when he performed the song So Close at the Oscars. Although I liked the song, I wasn't really jumping up and down for it. One day, fellow blogger Berg featured Jon Mclauglin's newest single then called Smack Into You. I was blown away.
Ears closed, what I hear the world just has to know
Cause' I know that what we have is worth first place in gold
And I soaked in your love
And love is right in my path, in my grasp
And me and you belong
And Jon Mclaughlin is just the cutest singer ever. Hihi.
Another hot guy with a hot voice is Michael Buble. And Home is my favorite song of his. I learned about the song while I was in the middle of my obsession with Damien Rice and I was searching for songs that were somewhat in the same genre. What I love about this song is that I can't help but feel bad for the singer. Although he keeps on saying he's coming home, a part of me is quite sure he has no one to come home to. But that's just a hunch.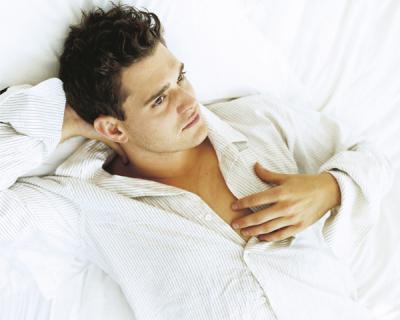 And I feel just like I'm living someone else's life
It's like I just stepped outside
When everything was going right
And I know just why you could not
Come along with me
'Cause this was not your dream
But you always believed in me
Another winter day has come
And gone away
In even Paris and Rome
And I wanna go home
Let me go home
I have to admit that it wasn't the original version that I heard first. It was Tim McGraw's. I actually thought it was an original song of his. Apparently, Ryan Adams wrote and performed it first. The Corrs and Bono also did a collaboration for this song and it didn't fail me either. I guess it's one of those songs that no matter who sings it, it will sound good every time.
Dancin' when the stars go blue
Dancin' when the evening fell
Dancin' in your wooden shoes
In a wedding gown
Dancin' out on 7th street
Dancin' through the underground
Dancin' with the marionette
Are you happy now?
Where do you go when you're lonely
Where do you go when you're blue
Where do you go when you're lonely
I'll follow you
When the stars go blue
21. Fred Astaire – The Way You Look Tonight
Again, My Best Friend's Wedding is to blame. I first heard this song in this movie and the scene in which it was used is just so romantic.
But even after my craze over the movie has ended, my love for this song remains with me. It's just the sweetest thing ever. It's like, "You look great" in steroids.
Some day, when I'm awfully low,
When the world is cold,
I will feel a glow just thinking of you…
And the way you look tonight.
…
The Top 20 songs are coming up next!